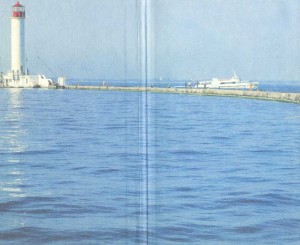 Odessa is one of the many Ukraine cities that belong to the World Federation of Twin Towns.
It maintains friendly ties with thirteen towns in different parts of the world-most of them being coastal like itself. They are Varna in Bulgaria,
Segled in Hungary, Constanta in Romania, Split in Yugoslavia, Marseille in France, Yokohama in Japan, Oulu in Finland, Vancouver in Canada, Genoa in Italy, Baltimore in the USA, Tripoli in Lebanon, Liverpool in Britain, and Valencia in Spain.
As for the Odessa region, it has established twin ties with the Varna region in Bulgaria, the Constanta area in Romania, and the Chongrad area in Hungary.
Most fruitful of all are the ties with cities in the socialist countries. Fraternal cooperation, mutual assistance, exchange of experience, socialist competition between enterprises, educational establishments, and scientific and cultural institutions all form part of the special relationship between the twin towns. As for the rural area, ties of friendship link the collective farms of the Odessa region with their counterparts in the Varna and Chongrad areas.
Friendly ties are also developing and growing stronger with Marseille, Genoa, Oulu, Yokohama and other towns.
Twin Town festivals, whether a few days or a couple of weeks long, are a regular feature in the relationships with Varna, Segled, Marseille and Genoa. Their programme includes exchanges of delegations and specialised or general tourist groups, exchanges of exhibitions, photo and film shows, visits of theatrical companies and so on.
That, in brief, is a picture of Odessa today. For the tourist on his first visit who wants to learn more about the history and present-day life of the city and its people, we can suggest several routes that will take him along the boulevards, give him a glimpse of famous buildings, a view of the sea and the chance to enjoy the hustle and bustle of "the pearl by the sea", as the people of Odessa lovingly call their city.