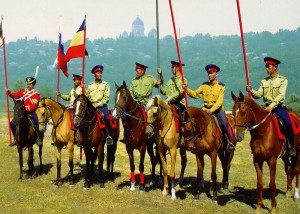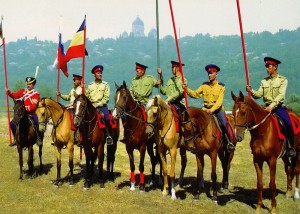 EN Cossack horse races. Novocherkassk
DE Kosaken-Pferderennen. Nowotscherkassk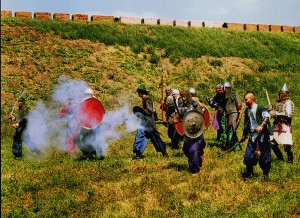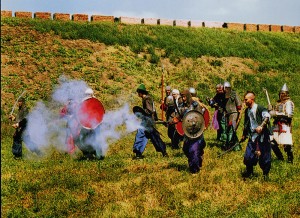 EN"Azov siege" historical reconstruction
DE Inszenierung der Schlacht bei der Festung Asow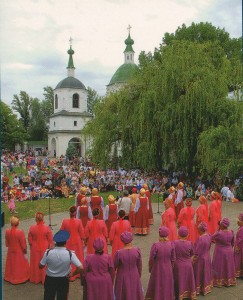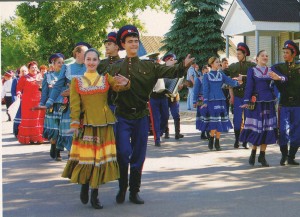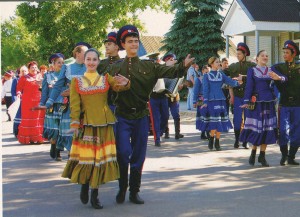 EN Folk holiday in Ataman courtyard of Cossack stanitsa Starocherkasskaya — at its height
DE Folklorefest im Ataman-Hof in der Kosakensiedlung Starotscherkasskaja ist in vollem Gange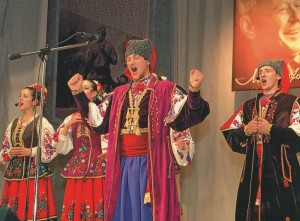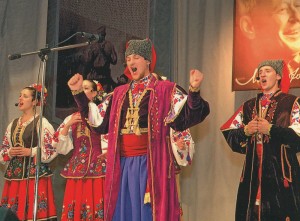 EN International literary-folk holiday "Sholokhov's spring" in stanitsa Vyeshenskaya
DE Das Internationale Literatur-Folklorefest "Scholochow-Frühling" in der Kosakensiedlung Weschenskaja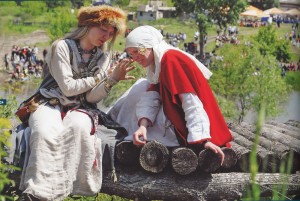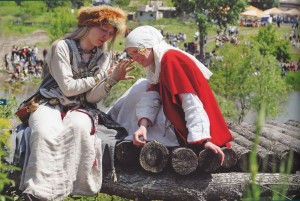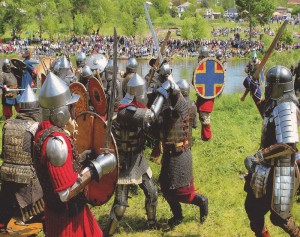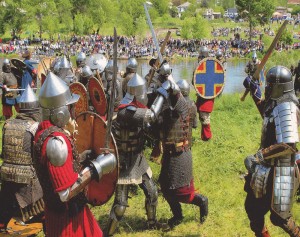 EN International Kayal readings" in khutor Pogorelov close to Belaya Kalitva
DE "Internationale Kajal-Lesungen" im Bauerngut Pogorelow nahe an der der Stadt Belaja Kalitwa
EN Folk holidays and festivals with daring Cossack songs and dances are memorable and joyful. They are held In many Cossack stanitsas of the Don and gather hundreds of audience. The most popular Interregional festivals are "There is no more free land than the Quietet Don" in Starocherkasskaya and annual festival "Sholokhov's spring" in stanitsa Vyeshenskaya. In addition ceremonial parade of Cossacks in Novocherkassk, held in the middle of May during the Day of the City gathers many guests from Russia and abroad. Historical reconstructions of famous events are interesting as well: Azov siege of Don Cossacks in 1367-1641 (All-Russia festival of military-historical clubs, on stronghold ramparts of Azov fortress), famous Prince Igor's warfare with Polovtsy in 1185 ("International Kayal readings on the Don and river Kalitva" in khutor Pogorelov).
DE Folklorefeste und Festivals mit draufgängerischen Kosakenliedern und — tänzen sind fröhliche und denkwürdige Ereignisse. Sie finden in vielen Kosakensiedlungen am Don statt und versammeln Hunderte Zuschauer. Die beliebtesten sind das interregionale Festival "Nichts ist freier als der stille Don" in Starotscherkasskaja und der jährliche "Scholochow-Frьhling" in der Kosakensiediung Weschenskaja.
Viele Gäste aus Russland und Ausland kommen auch zur feierlichen Kosakenparade in Nowotscherkassk, die Mitte Mai, anlässlich des Stadtfestes, stattfindet. Genauso interessant sind die Inszenierungen von berühmten historischen Ereignissen, wie z.B. der Belagerung von Asow ± 1637-1641 (Allrussisches m, Festival von militärhistori sehen Klubs an den Festungswällen von Asow) und der Schlacht des Kriegsgefolges des Fürsten Igor gegen Kyptschaken im Jahre . 1185 ("Internationale Kajala-Vorlesungen am Don und der Kalitwa" im Einzelgehцft Pogorelow).