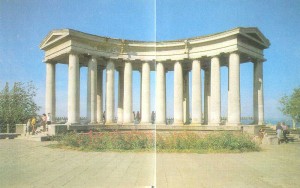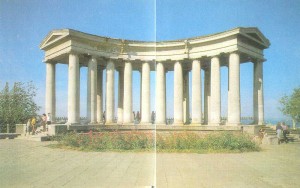 The building on the left side was built in 1829-1830, and could be regarded as a mirror image of the one on the right, with only a few minor differences, but its classical style was changed considerably during the second half of the 19th century when it was adapted as a hotel and balconies were added to its facade.
During the Second World War the building was destroyed, but was restored in 1948. Today it houses the Passenger Service of the Black Sea Shipping Line.
A memorial plaque on the building tells us about some of its famous visitors when it was known as the St. Petersburg Hotel. In 1846 the great Russian critic, publicist and revolutionary democrat Vissarion Belinsky (1811-1848), and the famous Russian actor Mikhail Shchepkin (1788-1863), stayed there when Shchepkin brought Belinsky to Odessa for treatment for his tuberculosis.