The Health Resort District Arkadiya
Privokzalnaya Ploshchad—Prospekt Shevchenko—Ploshchad Desyatogo Aprelya—Arkadiya—Ulitsa Pionerskaya— Proletarskiy Bulvar—Ulitsa Chizhikova-Privokzalnaya Ploshchad.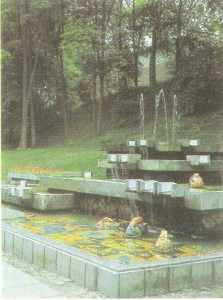 This excursion to the oldest health-resort district Arkadiya (Arcadia) is best begun from Privokzalnaya Ploshchad (Railway Station Square). Take the No.7 trolleybus (the stop is on the left-hand side of the station, if you are facing it) and ride to the stop called "Dvoretz Sporta" (Sports Palace) on Prospekt Shevchenko (Shevchenko Avenue). If you start from the centre of Odessa, then take the No.5 bus at the intersection of Ulitsa Lenina (Lenin St.) and Ulitsa K. Libknekhta (K. Liebknecht St.) outside the shop Delfin.
From the station the trolleybus skirts Ploshchad Oktya-brskoy Revolutsii (October Revolution Square) and goes down Ulitsa Pirogovskaya (Pirogov St.) named after the outstanding Russian surgeon Nikolai Pirogov (1810-1881).
Before the revolution this street was the southern limit of the city. Today Odessa has grown far beyond it.
On the right-hand side is the stadium of the Soviet Army Sports Club, the second largest in Odessa. It was reconstructed in 1967 and can now accommodate 22,000 sports fans. It is the site for football matches, track and field contests, volleyball, basketball and handball tournaments. The open-air swimming pool also attracts many people.
Turning to the right, the trolleybus follows the short Pirogovsky Pereulok (Pirogov Lane) and comes out on Prospekt Shevchenko (Shevchenko Avenue).
The district which the Avenue crosses used to be a shabby slum area. A road was built across it at the end of the 19th century, but mostly it was wasteland with a few houses. The poorest people lived here and it was called Golopuzovka (the Russian for Ragged). However, closer to the sea were the villas of the rich. Probably nowhere in Odessa was the contrast between rich and poor so marked as in Golopuzovka. The Soviet government eliminated this contrast.
In the early sixties a new residential district with a wide thoroughfare was built to replace the old Golopuzovka and in 1964 when the country marked the 150th anniversary of the Great Ukrainian poet and revolutionary democrat Taras Shevchenko, the thoroughfare was named after him.