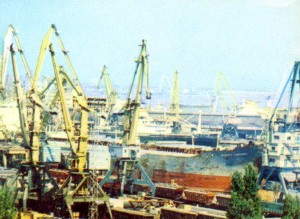 As soon as the enemy had been ousted from Odessa, the city got down to healing the wounds of war. The state allocated very large sums for the restoration of the town, and all the Soviet republics helped by sending building materials, machines and equipment, as well as specialists and workers. Between 1946 and 1950 Odessa received 1,200 million roublesforthe restoration of industry and 1,000 million for the rebuilding of the port facilities.
In the autumn of 1944 the port was able to receive its first ships. The Opera and Ballet Theater reopened, schools and colleges started functioning again, the trams began running, and the waterworks started operating.
Hundreds of homes and administrative buildings were restored in a short space of time, and the ruined factories were rebuilt. By 1950 the war-ravaged economy had been restored and Odessa's industrial output surpassed the prewar level.
As the years passed, Odessa made another big step forward in its economic and cultural advancement. New industries were built up as dozens of new factories started operating; these producee steel, presses, cables, hydraulic drives, etc. Industrial output today exceeds the level of 1940 many times over.
The face of the city has
also changed. New housing estates, streets and entire districts grew up. The first new residential district, the Yugo-Zapad began to go up in 1961. Today it has a population of more than 150,000 and the city is continuing to sprawl out to the south. The Yugo-Zapad was followed by the Tairov district which houses about 100,000 people. Work is nearing completion on its extension, the Yuzhny district, where more than 80,000 people will live.
At the same time work continues on the Kotovsky district, 12 km to the north-east of the center of the city, where already more than 70,000 people have moved into new flats.
Building is not haphazard. It conforms with the Master-plan adopted in 1966 for a period of 25-30 years. This plan is all-embracing, covering every aspect of urban development and ensuring that in its new image modern architecture will blend harmoniously with the architectural monuments of the past.
The decades since the Great Patriotic War have consolidated Odessa's position as a major cultural and science centre, and increased its popularity as a health resort and tourist centre.