An agreement between IAEA and Rosatom Technical Academy (Rosatom Tech), officially designating Rosatom Tech as a Collaborating Center in the field of knowledge management and Human Resource Development for Nuclear Energy and Nuclear Security was signed during the 63rd Annual Regular Session of the IAEA General Conference, which was held in Vienna (Austria) from September 16 to 20.
"The designation of the new Collaborating Centre that integrates efforts in the field of nuclear infrastructure and nuclear security, and the implementation of the planned actions until 2023 will provide a synergy effect in meeting growing needs of the IAEA Member States and will make available greater opportunities for the exchange of experience and best practices" – mentioned Mr. Yuri Seleznev, the rector of Rosatom Technical Academy.
The Russian Federation is one of the largest donors to the IAEA Nuclear Safety and Security Fund and the IAEA Technical Cooperation Fund. The total annual extra budgetary contribution to the Agency in these areas exceeds 2 million euros. These funds are used by the IAEA for the needs of Member States with the Russian concurrence, including one of our priorities to assist in the development and continues training of the highly professional personnel.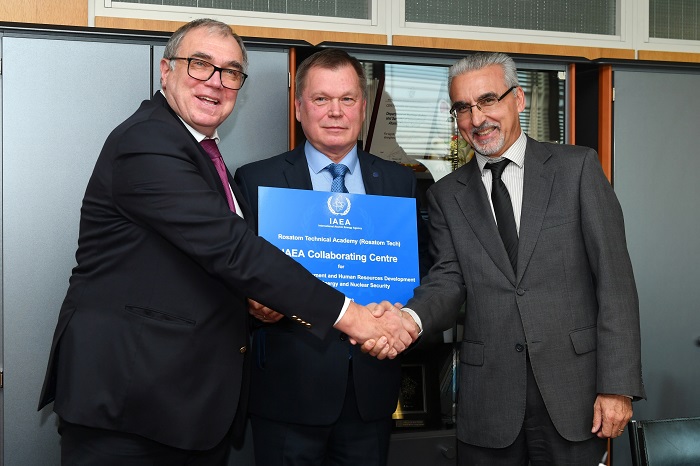 Having a long history of successful cooperation with the IAEA, the Rosatom Technical Academy contributes significantly to the implementation of these important projects. On a regular basis, a wide range of specific international and regional training events in the form of schools, training courses and technical visits are held jointly with the Agency. Since 2011 more than 1,300 specialists from 45 IAEA Member States have been trained in the area of nuclear infrastructure development.
There is the Global Institute of Nuclear Safety and Security (GNSSI) as a unit of the Rosatom Technical Academy. GNSSI has a unique training polygon, laboratories, simulators and training classes that are equipped with physical protection systems from the leading manufacturers. This guarantees the training of the staff, in fact, in all fields of physical protection. Since 2004, GNSSI has conducted 53 international courses on the subject of physical protection; more than 1,100 specialists from 67 IAEA Member States took part in them.
At the signing ceremony, IAEA Deputy Director General and Head of the Department of Nuclear Safety and Security, Mr. Juan Carlos Lentijo, thanked Rosatom Technical Academy for its unprecedented contribution to personnel training and for longstanding effective work in cooperation with the Agency. He also expressed confidence in successful implementation of the four-year cooperation plan perspective. IAEA Deputy Director General and Head of the Department of Nuclear Energy, Mr. Mikhail Chudakov in his speech emphasized that designation of Rosatom Tech as IAEA Collaborating Center will help to implement modern approaches and practices through Nuclear Knowledge Management Schools. It also will provide an opportunity to involve highly qualified ROSATOM personnel into the assist visits organized under the Agency auspices.
Photo: D. Calma (IAEA)