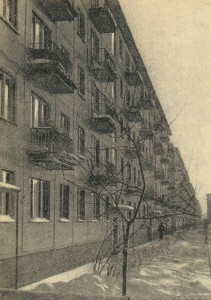 The reconstruction of this formerly suburban part of the city, which was begun before the war, made possible the building of the Malo-Okhtinsky Prospect on the right bank of the Neva and the laying-out of the Zanevsky Prospect which in the near future will be a continuation of the Nevsky Prospect (the plan is by the architects D. P. Burishkin, M. I. Brusilovsky, G. A. Simonov, B. R. Rubanenko). When the new bridge across the Neva is ready, the architectural ensemble of the Aleksandro-Nevskaya Lavra (Alexander Nevsky Monastery) will be joined to the district on the right bank.
Malaya Okhta is being built between its two architectural axes, Volodarsky Bridge to the south and the bridge near the Monastery, at present under construction, to the north. The new blocks of dwelling houses have been laid out to give a sense of space and to please the eye (the architects were headed by A. K. Barutchev).
The Poliistrovsky Building Combine is erecting many buildings according to standard designs out of large prefabricated panels. New streets have sprung up — the Shaumyana Prospect, Granitnaya Street, G'romova Street, the south part of the Novocheraassky Prospect, and so on.
The self-contained blocks are planned according to modern ideas; the micro-districts are provided with well-equipped boarding schools, light glass-fronted shops, sports grounds within the blocks and other facilities to afford the inhabitants every convenience and make the district attractive.