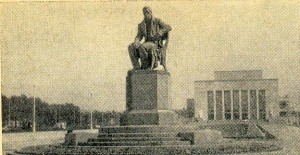 On May 19, 1962 a gala performance was given in the new splendid building of the Young Spectator's Theatre, a gift to Saint Petersburg children on the 40th anniversary of the Young Pioneers Organization
The former Semyonovsky drill ground located here was surrounded by barracks; it was used by the tsarist government as a place for brutal executions of revolutionaries. In December 1849 a disgusting farce of carrying out the 'capital punishment' of M. V. Butashevich-Petrashevsky, F. M. Dostoyevsky and A. N. Pleshcheyev was played out on the drill ground. In 1881 the Narodovoltsi A. I. Zhelyabov, N. I. Kibalchich, S. L. Perovskaya, T. M. Mikhailov and N. I. Risakov were hanged here for the assassination of Alexander II.
Now, a new architectural ensemble is being erected here as a worthy memorial to the fighters for the freedom of the people. In the centre of the square the construction of the monumental building of the Young Spectators'Theatre has been completed; it invests with beauty and dignity the perspective of Dzerzhinsky Street.
Against the background of the austere silhouette of the theatre one can see the monument to the great Russian writer A. S. Griboyedov. The memorial was set up from the model created by the sculptor V. V. Lishev and the architect V. I. Yakovlev.
The image of the author of the immortal comedy Wit Works Woe is imbued with warmth and sympathy; Griboyedov is portrayed as if listening intently and observing closely the life around him — the life of which he had dreamed.