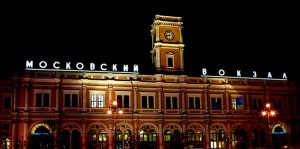 Designed by the architect K. A. Ton, the building of the Moscow Railway Station was erected in 1851, when the construction of the St. Petersburg — Moscow Railway Line was completed.
When, in the autumn of 1890, the twenty-year old Ulyanov first set foot in Petersburg, he arrived from Samara at the Nikolayeysky Station (now called the Moscow Station), and his first sight of the city was the present Uprising Square. Lenin was here many times subsequently — many houses in this district are linked with the life and revolutionary activities of the leader of the world proletariat:
At number 41/87, Lfgovsky Prospekt (now the Hotel 'Moskovskaya') Lenin was twice registered as a visitor 'in transit' in May 1891 and January 1894.
N. K. Krupskaya lived at number 97, Nevsky Prospect, and Lenin was a frequent visitor at her house in 1894.
In February, 1897 Lenin took part in a meeting of members of the League for the Emancipation of the Working Class who were being sent into exile; this took place at number 77/1, Pushkin Street, at the corner of the Nevsky Prospect.
A 'block away from the Staronevsky Prospect, at the corner of 2nd Rozhdestvenskaya Street (now 2nd Sovietskaya Street) and the Suvorovsky Prospect, on the 8th of November, 1905 Lenin took part in a meeting of the Petersburg Committee of Bolsheviks.
In the year 1906 V. I. Lenin and N. K. Krupskaya often dined at the restaurant of the 'Sever-naya' (now the Oktyabrskaya) Hotel (118, Nevsky Prospect). It was here, too, that Lenin once met F. E. Dzerzhinsky.
In the editorial office of the Bolshevik newspaper Vestnik Zhizni (102, Nevsky Prospect) Lenin used to meet the Party writers V. V. Vorovsky, M. S. Olminsky, A. V. "Lunacharsky and others in the years 1906—1907, and at the beginning of 1906 he would meet Party functionaries and collo-borators in Bolshevik publications in the house at 108, Nevsky Prospect.
Owing to the increased number of passengers, the building of the Moscow Station was reconstructed by the architect B. I. Kuznetsov in 1951, and in 1957 a bronze monument to V. I. Lenin was set up by the sculptors V. Y. Bogolyubov and V. I. Ingal at the entrance to the platform hall.
Four years later, in 1961, a new wing was added to the station along the Ligovsky Prospect; this is the second entrance to the 'Uprising Square' Underground Station. In its architecture it happily imitates the style of the old building but the interior is completely modern and attractive in decoration. The Moscow Railway Station is now linked to "the Underground by a system of passages leading directly to the platforms.
From the Moscow Station long-distance trains leave for Moscow, Sochi, Kislovodsk, Sverdlovsk, Grodno, Yaroslavl, Gorky, Vologda, Murmansk, Arkhangelsk and other towns. Suburban trains run to Tosno, Lyuban, Mga, Malaya Vishera and Volkhovstroi.