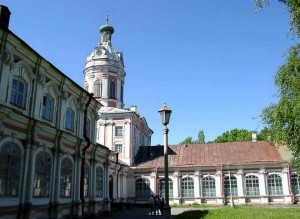 The museum in responsible for the safeguarding and restoration of the monumental sculptures in the streets and squares of Saint Petersburg. The visitors are shown an exhibition of models of urban monuments, the necropolises and the so-called Literatorskiye Mostki of the Volkov Cemetery.
Built in the national architectural tradition, the ensemble of the monastery is a specimen of the church architecture of the eighteenth century. Among the complex of the churches and monasteries two are distinguished by their originality. They are the Troitsky Cathedral, erected in 1776— 1790 by the architect I. E. Starov, and the Blagoveshchenskaya Church, built in 1717—1722 by the architect D. Trezzini.
On the territory of the Lavra are the famous necropolises: to the left of the main entrance is the eighteenth century necropolis, known formerly as the Ldzarevskoye Kiddbishche (Cemetery). M. V. Lomonosov, A. N. Voronikhin, A. D. Zakharov, C. I. Rossi, M. I. Kozlovsky are buried there. To the right is the necropolis of the distinguished men of the nineteenth century with the graves of F. M. Dostoyevsky, M. I. Glinka, N. A. Rimsky-Korsakov, M. P. Musorgsky, P. I. Tchaikovsky, I. I. Shishkin, I. N. Kramskoi, V. V. Stasov and others. A. V. Suvorov's grave is in the Blagoveshchenskaya Church.
The area around the monastery is being reconstructed: the old brick granaries and storehouses on the left bank of the Neva are being pulled down, a bridge — the largest in Saint Petersburg — is being built acrose the river which will connect the Nevsky and Zanevsky Prospects and provide a shorter way from Malaya Okhta to the centre of Saint Petersburg relieving the heavy traffic tension between this area and the Nevsky District.