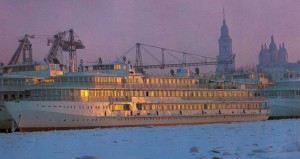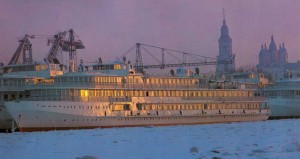 The river passenger fleet operating on Russian inland water-ways is made up of comfortable double-decker, three-decker and four-decker liners and high-speed hydrofoil motorships. A trip on one of these boats is a fascinating experience enabling you to see many places of interest and enjoy beautiful scenery en route.
The Russia Company for Foreign Travel organize tourist cruises and excursions for foreign tourists on the Volga and Don rivers, the Gulf of Finland and Lake Baikal.
The Russian river cargo fleet consists of up-to-date large-tonnaee cargo vessels, barges and tankers. These ships opeidte on combined sea — river lines calling at ports in Bulgaria, Poland, Germany, Sweden, Finland, Holland, Belgium, France, Italy, Great Britain, Japan, Iran, Norway, Denmark and other countries.