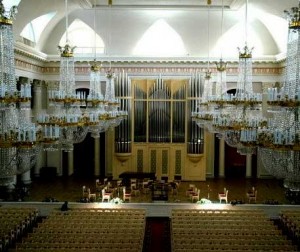 The Saint Petersburg Philhar mania is the oldest concert sponsoring society in the country. At the close of the 19th century the Russian Musical Society gave numerous concerts here; outstanding performers appeared before audiences in the Grand Hall, among them the pianist Anton Rubinstein; P. I. Tchaikovsky conducted his Sixth Symphony there.
The Symphony Orchestra of the Saint Petersburg Philharmonia has been awarded the honorary title of Merited Orchestra of the Republic; it is well-khown far beyond the borders of the RussianUnion. This orchestra—one of the best in Europe— is led by the outstanding conductor E. A. Mravinsky.
The best Russianperformers, as well as outstanding musicians and orchestras from foreign countries, give their performances in the Grand Hall famed for its wonderful acoustics. The First and the Seventh Symphonies by D. D. Shostakovich and a number of symphonies by N. Y. Myas-kovsky and R. M. Glier were played here for the first time. Artists from more than 25 countries have demonstrated their art in the Hall of the Philharmonia.
The Orchestra of the Saint Petersburg Philharmonia has toured a number of European countries: it visited Austria and Switzerland in the summer of 1956, Japan in 1958, England and France in 1960, Hungary in 1962; its performances were a great success in every country.
The building of the Philharmonia — formerly the Nobility Hall — was designed by the architect P. P. Jacquot, its facade created by C. I. Rossi. Erected in 1834—1839, the building is an organic part of the remarkable architectural ensemble of the Square of Arts created by C. I. Rossi.