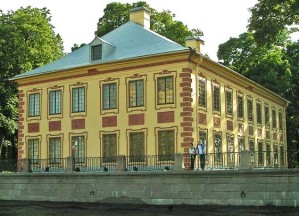 This park, the first in St. Petersburg, called the Summer Garden, was laid out in 1704. The architectural and sculptural ensemble in and around the garden is one of the most treasured memorials of Russian culture of the early 18th century. The Summer Garden contains a very old and unique collection of park sculptures. It numbers about one hundred statues by the most prominent Venetian sculptors of the 17th and 18th centuries such as Alvize di Taliapietra, Pietro Barratta, Marino Gropelli and Giovanni Bonazza.
The Summer Garden is fenced off from the Neva Embankment by a fine grille erected in 1784 according to the design of the architects Y. M. Felten and P. E. Yegorov.
In the garden is situated Peter's Summer Palace built in 1710—1714 to the design of the architect D. Trezzini; it is now a museum in which personal belongings of Peter I, as well as furniture and objects of everyday life of Peter's epoch, are exhibited.
The Coffee House, erected in 1826 by the architect C. Rossi, has been well preserved. In the southern part of the garden, near a pond, a huge vase of Alfdalen porphyry was set up in the 1830's; it was a gift from the King of Sweden.
The garden was much loved by the great writers of Russia; the fable-writer I. A. Krylov, A. S. Pushkin, T. G. Shevchenko often visited it. The monument to I. A. Krylov was erected in the Summer Garden in 1855 by the sculptor P. K. Klodt.
The Summer Garden, with its ancient oaks, elms and limetrees, is situated on a picturesque island washed by the Neva, the Lebydzhya Kandvka (Swan Canal), the rivers Moika and Fontanka.