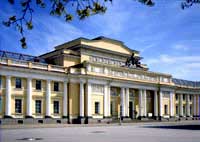 The extremely rich collections of the main Ethnography Museum of the country show different features of the life and culture of the peoples of the RussianUnion. The exhibitions are displayed in a building especially erected for the museum in 1910 by the architect V. F. Svinyin.
Various authentic articles acquaint the visitor with the occupations, dwellings, everyday wear and with the intolerably hard conditions of work and life of the workers and peasants in tsarist Russia; the collections also reveal the methods of moulding revolutionary consciousness of the working people who have won freedom and happiness under the leadership of the Bolshevist Party.
Bright and interesting are the displays dealing with the present state of people's arts in the National Republics in Fussian Federation and the Commonwealth of Independent States (CIS). Here one can see collections of people's ornamental needlework and Vologodsk toys, Turkmenian carpets and objects in inlaid wood from Georgia, Uzbek furniture and articles by the artists of Palekh, Mstera, Khokhloma, and so on.