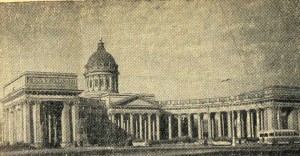 The Kazan Cathedral looks striking in the Dright rays of the rising sun.
The museum was founded in 1932. The exhibits acquaint the visitor with the history of religion and the progress of the materialist and atheist outlook which is opposed to it. The collections of the museum are formed of memorial objects and documents of the countries of the ancient world, Europe and Asia. The lectures which are delivered at the University of Atheism housed in the museum are extremely popular.
Created in 1801—1811 by A. N. Voronikhin the building of the museum is a superb architectural monument. The Kazan Cathedral contains trophies of the Patriotic War of 1812. Here, too, in this Pantheon of Russian military glory, is the tomb of the great general M. I. Kutuzov. Also symbolic of the nation's military glory are the famous monuments to M. I. Kutuzov and M. B. Barclay de Tolly set up in front of the cathedral in 1837. These statues were the work of the sculptor B. I. Orlovsky and the architect V. P. Stasov.
The statues and bas-reliefs that decorate the facade and the interior of the cathedral were made by the best sculptors of the time: S. S. Pimenov, I. P. Martos and V. I. Demiit-Malinovsky. The mighty colonnade of the cathedral is now an inseparable part of the aspect of the Nevsky Prospect, and the Voronikhin railing in front of the cathedral (in Dlitsa Plekhanova) is an oustanding example of Russian decorative metal work.
Historical and revolutionary events of great importance are closely connected with the square in front of the Kazan Cathedral. It was here, on December 6, 1876, that the first Russian political demonstration, with workers participating, took place, and after an eloquent speech by Q. V. Plekhanov the red flag was flown. On March 4, 1897, a students' demonstration was held in the square to protest against the tsarist satraps who had manhandled the twenty-year-old revolutionary M. F. Vetrova. The square was the scene of the students' manifestation in 1901 and 1902. On the Bloody Sunday of 1905 the workers tried to make one of the first barricades in front of the cathedral. It was here, too, that stormy manifestations of the people who had risen in revolt during the February Revolution took place. The square rang to the firm steps of the columns of working-people in the days of the Great October Revolution of 1917.