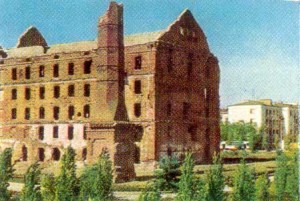 Nearby there is another sight of the city — a shell-rent building with gaping black holes instead of windows and with half-destroyed walls. Before the Great Patriotic War this building housed a mill and during the defence of the city it served as a command post of a Soviet Army unit. This building has been preserved just as it looked after the battle. This is a monument to the defence of the city.
Anyone in Volgograd will show you the way to the Mamayev Hill. Leading to it is Lenin Avenue, the central city thoroughfare with blocks of flats, public gardens and alleys. Mamayev Hill is the highest point of the city. For five months the frontline passed over its top. Every inch of ground was gained the hard way. The exceptionally fierce struggle here is evidenced by the fact that later up to 1,250 fragments of mines, bombs and shells were found on each square meters of ground. Now the Hill is almost clean of fragments — hundreds of thousands of tourists picked up the pieces of metal and took them away to all corners of the world as souvenirs.
A majestic monument is being put up on Mamayev Hill in honour of the victory won by Soviet soldiers in the battle on the Volga.