Moscow Shopping
Moscow shopping is here!
Shopping in Moscow
is exciting, varied, lively and unique. There are more than 20 000 shops in Moscow.
If you came here for a few days, do not try to grasp the immensity: choose something during your Moscow shopping journey that will bring you a pleasure. You can use my advices, your Moscow Russia Travel Guide, or to you can make your own routes during your Moscow visit.
So on closer inspection turns out to Moscow unnecessarily expensive city, especially for foreigners. Moscow has overtaken New York and London mainly due to high cost of Moscow real estate and entertainment. Let's face it; there are the most expensive hotels and cafes. A cup of coffee in Moscow cost more than in Paris, prices of imported goods higher than in Western Europe or in Northern America. You will find Moscow people very brand conscious. However, if the majority of city residents can find good bargain with prices and the quality, so can you.
WHAT TO BUY IN MOSCOW:
First of all you need to buy Russian dictionary before you start your shopping in Moscow. It is always a good idea to have some Russian vocabulary when you visit Moscow.
Russian Chocolate and Russian caviar
Russian souvenirs: Samovar, Matreshka Doll (Russian nesting dolls), Russian clothing (Russian hats and shawls), Russian Christmas ornaments, Palekh miniature (Russian folk handicraft of miniature painting), Gzhel (Russian porcelain and pottery, painted with blue colors on a white background), Hohloma (decorative painting of wooden dishes and furniture, performed in black and red colors on a golden background)
Russian Movies and CDs with Russian folk music and Russian pop music
Moscow and Russia picture Albums
Russian diamonds – I really like this gift idea!
Russian sauna accessories
If you are looking for a very special Russian gift, what about a pet? Russian blue cat would be a great companion. If you are more a dog person, you can bring with you a Russian wolfhound or black Russian terrier.
WHERE TO SHOP IN MOSCOW:
GUM Trading House – not every enterprise has such a long and rich history as GUM. Just several trading passages of Russia have right to be proud of the fact that they were created over a century ago and successfully operate till nowadays. GUM always was and remains the greatest country's store. GUM is located next to the Moscow Red Square and open from 10 am till 10 pm.

Russkaya Ulitsa (Russian Street)

Red October Chocolate Factory, Bersenevskaya nab. 2, bldg. 1. Kropotkinskaya Metro station

The boutique Russian Street stocks fashion-forward pieces by dozens of up-and-coming local Russian designers.

Petrovsky Passage is an elite department store, opened in 1906 and located on Petrovka Street, 10 Kuznetsky Most in central Moscow. Petrovsky Passage has a through passage, covered arcade with two wide three-storey galleries covered with high-pitched semi-cylindrical glass vaulting, to the street Neglinnaya. Petrovsky Passage is open from 10 am till 10 pm.

Okhotniy Ryad is underground Moscow shopping center, located under Manezh Square. It is opened from 10 am till 10 pm. Okhotniy Ryad shopping center located in the center of Moscow near by the Red Square.



Manezhnaya Square
There are three levels linked by stairs, escalators and elevators. Okhotny Ryad shopping center is 62 711 sq. meters, has underground parking, offers to visit a variety of cafes, restaurants, internet cafes, a bowling center. There are more than 100 stores of leading world brands: shoes, clothes, cosmetics, jewelry, accessories, baby products, products for sports, and etc.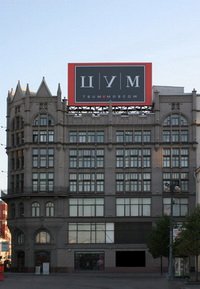 TSUM is located at Petrovka Street, 2, nearby Bolshoi Theater and Maly Theater at Teatralnaya or Ohotny Ryad metro station. TSUM was built in 1908, is an example of European Gothic with modern elements. TSUM today is only Russian department store, which is entirely consistent with world standards, and the main point of fashion on the city map. TSUM offers collections of more than a thousand well-known European and world brands of clothes, shoes and accessories, perfumery, cosmetics, accessories, presented at the area 60 thousand square meters. Open from 10 am till 10 pm Monday through Saturday, and 11 am till 10 pm Sunday.

Atruim Complex is located on Sadovoe Ring nearby Kurskaya metro station. Exact address is Zemlyanoy Val, 33. The complex has all the necessary equipment for people with disabilities and low mobility. The Atrium was awarded the "City for Everybody" and it is wonderful shopping destination in Moscow.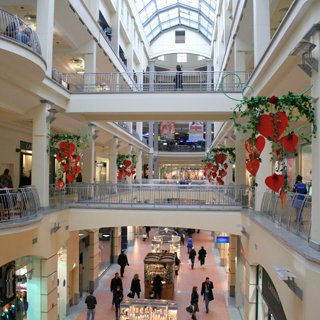 Atrium has highly developed restaurant infrastructure. You can find a place for every taste and budget. The whole area of the Atrium Complex there are numerous cafes and restaurants, among them Starbucks, Dunkin 'Donuts, Yolki-Palki, Kabuki, Uno Bar, Il Patio, Friday's, Coffee House, Shokoladnitsa, Malina, and others. Some restaurants and cafe open summer veranda during summer months. For instance, in 2010 restaurant Kabuki opened summer terrace on the Atrium's roof, and it has become a favorite place for many visitors. 24Hours "Perekriostok" is a special supermarket, where a number of basic goods under one roof – the best delicacies from all over the world, fresh fruits and vegetables, exotic delicacies. Movie Theater "Karo Film Atrium" has nine halls, including 2 VIP rooms and 2 meeting rooms, equipped specifically for watching movies in 3D. In 2009 was opened children's theater "Courage." Every weekend there is performances are held for children, where children are direct participants in the shows. Atrium is open every day, except January 1st, from 10 am till 11 pm.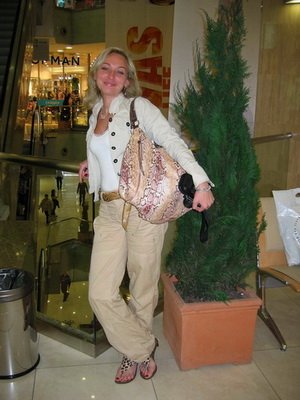 Evropeiskiy (European) shopping and entertainment center is conveniently located between Dorogomilovskaya Street and Kievsky Vokzal square – Kievskaya subway and railway stations. Evropeyskiy is unusual three-cornered building with over 180 000 square meters of retail space. The inside design of the building represents eight levels and five atriums named after five famous European capitals: Moscow, Paris, Rome, Berlin and London.

You Moscow Russia Travel Guide on shopping spree
Evropeyskiy is great Moscow shopping place – there are more than 500 stores selling everything imaginable, from modern clothes and consumer electronics, to exclusive gift ideas and ballet tickets. Supermarket Perekriostok offers full service for your grocery. 3D cinema "Formula Kino" has nine halls which are open seven days a week until midnight. More than 30 restaurants and cafes, like Goodman Steak House, Il Patio, T.G.I Friday's, are in the mall. You can also enjoy the restaurants featuring Russian, Ukrainian, French, Japanese, Chinese, Spanish, Arabian and Caucasian cuisines. The modern refined style decisions create the atmosphere of an elegant luxury and coziness. Evropeyskiy's address is Ploschad Kievskovo Vokzala, 2. It's open Monday, Tuesday, Wednesday, Thursday, and Sunday from 10 am till 10 pm., Friday and Saturday from 10 am till 11 pm.
There is another interesting place in Moscow – Winzavod, one of the Moscow's best contemporary art complexes. Tucked behind the rusting Kurskiy Vokzal (Kursky train station), Vinzavod is a onetime factory complex, that now houses galleries, fashion boutiques and cafes. It's the hip place to go fashion shows and celebrity sightings.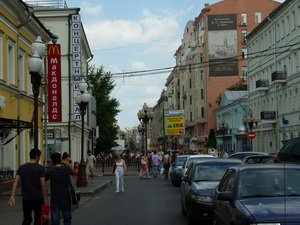 If you are shopping in Moscow for Russian souvenirs and Russian gifts, I recommend you to go to Arbat Street – it has convenient location (Smolenskaya or Arbatskaya metro station (on light blue metro line) and really easy to get around. This is the only place in the world where you can buy absolutely all Russian souvenirs. Also don't miss Ismailovo vernissage. It's located on Partisanskaya metro station, or just in one step from the tourist hotel complex Ismailovo. There are you can find really wide range of Russian tradition art beginning from Gzhel, Hohloma, Fedoskino, Palekh to Uzbek ceramics and Soviet antiques. My advice is better to get up early and be at vernissage in the morning, it opens at 10:00, later afternoon there will be more people and less discounts.
Please write me on the contact form if you have any questions or would like to share your Moscow shopping story.
Your Moscow Russia Travel Guide

All Moscow shopping locations you can find on this Map of Moscow Russia:
---

Home Page | About Me | Moscow Blog | Russian Visas | Travel Tips | Getting to Moscow | Getting Around Moscow | Hotels Guide | Luxury Hotels | Airport Hotels | Cheap Hotels | Hostels | Moscow Housing | Moscow Facts | Tourist Attractions | Moscow Skyscrapers | Entertainment | Russia Facts | Government | Flag of Russia | Places to Visit | Russian Food | Culture of Russia | Russian Movies | Russia Wildlife | Russia Pictures | Russia Sports | Sochi Olympics