St. Basil's Cathedral
For many inhabitants of planet Earth, the
St. Basil's Cathedral
is a symbol of Russia and Moscow – the same as the Eiffel Tower for France and Paris, the Statue of Liberty to the United States and New York, Big Ben for England and London… Orthodox temple located on
Red Square
in Moscow, Russia.
St. Basil's Cathedral is the main temple of the Moscow Red Square and one of the most famous Russia tourist attractions.
Almost every tourist who comes to Moscow tends to be photographed with St. Basil in the background – I am unlikely making a mistake by calling Moscow Red Square with St. Basil Cathedral the most photographed places in Moscow, Russia.
St. Basil's Cathedral is well-known monument of Russian architecture. Prior to the XVII century is usually called the Trinity, as the original wooden temple was dedicated to the Holy Trinity.

St Basil's Cathedral was built in 1555-1561 by order of Ivan the Terrible to celebrate the capture of the Kazan Khanate. Sturm of the Kazan began on October 1st, 1552, in the feast of the Protection of the Mother of God, so the "official" name of the temple – the temple of the Protection of the Mother of God.

The Cathedral is a symmetrical group of eight churches surrounding the central church. Each of the eight churches named in honor of the saint whose day occurred in one or another significant event of Ivan's the Terrible Kazan campaigns. There are a total of nine Cathedral iconostasis; which have about 400 icons of XVI-XIX centuries. The walls of the Cathedral are decorated with frescoes. Also there you can admire the portrait and landscape painting, and church utensils. The most valuable exhibit is a chalice XVII century, which belonged to Tsar Alexei Mikhailovich.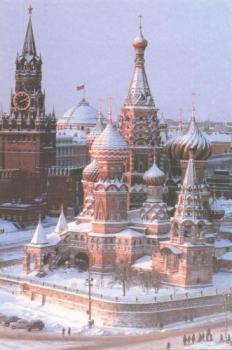 A lot of legends linked to the St. Basil's Cathedral. Originally, there was a white stone temple, where the Moscow revered holy fool Basil was buried. Legend says that he was collecting money for the future church, brought them to Red Square and threw them over his right shoulder. These coins stayed on the ground untouched, until Basil before death had given them to Ivan the Terrible for the construction of the Cathedral.
The chronicle indicates that Barma and Postnik Yakovlev were the architects who built the St Basil's Cathedral. However, there is a theory that in fact there was one master – Ivan Yakovlevich Barma, known for his commitment to strict fasting and had a nick-name Postnik (fast = post) because of his commitment.
Well-known legend says that Ivan the Terrible ordered blind masters, that they are not repeated anywhere else same masterpiece. But it is rather a myth, because in future the name Postnik found in the chronicles in connection with the creation of other great architectural monuments.
Your Moscow Russia Travel Guide.
Related Posts
Moscow Kremlin | Moscow Red Square | Lenin's Mausoleum | Moscow GUM | Cathedral of Christ the Savior | Bolshoi Theatre | Theaters in Moscow | Moscow Museums | Moscow River Cruises | Moscow Zoo | Moscow Cat Circus | VDNKH or All-Russia Exhibition Centre | Moscow Metro | Gorky Park

---

Home Page | About Me | Moscow Blog | Russian Visas | Travel Tips | Getting to Moscow | Getting Around Moscow | Hotels Guide | Luxury Hotels | Airport Hotels | Cheap Hotels | Hostels | Moscow Housing | Moscow Facts | Tourist Attractions | Moscow Skyscrapers | Entertainment | Shopping | Russia Facts | Government | Flag of Russia | Places to Visit | Russian Food | Culture of Russia | Russian Movies | Russia Wildlife | Russia Pictures | Russia Sports | Sochi Olympics