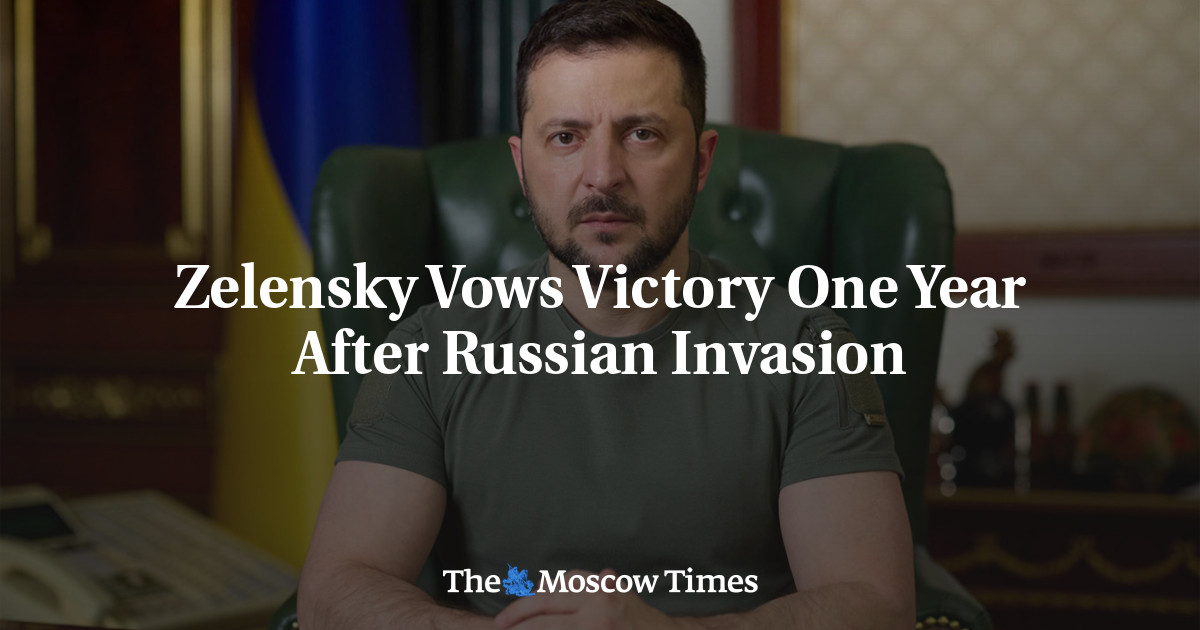 Ukrainian President Volodymyr Zelensky promised victory against Russia on Friday on the one-year anniversary of Europe's largest conflict since World War II, as commemorations were held by Kyiv's Western allies.
"We endured. We were not defeated. And we will do everything to gain victory this year," Zelensky said in a statement released on social media.
"Ukraine has inspired the world. Ukraine has united the world," Zelensky said.
Hailing cities that have become bywords for alleged Russian war crimes like Bucha, Irpin and Mariupol as "capitals of invincibility," he said "we will never rest until the Russian murderers face deserved punishment."
A year ago to the day, Russian President Vladimir Putin stunned the world by sending troops across the border, in a move seen as punishment for Kyiv's pivot to the West.
The year-long war has devastated swathes of Ukraine, displaced millions, turned Russia into a pariah in the West and, according to Western sources, has caused more than 150,000 casualties on each side.
The West has imposed increasingly stringent sanctions on Russia and ramped up humanitarian aid and arms supplies for Ukraine, leading to warnings from Moscow of a dangerous escalation.
The United States and its G7 allies on Friday planned to unveil a fresh package of sanctions, while U.S. National Security Advisor Jake Sullivan said Washington would send Ukraine a new military aid package worth $2 billion.
This week, U.S. President Joe Biden surprised the world by visiting Kyiv to pledge new arms deliveries.
"One year later, Kyiv stands. Ukraine stands," he tweeted. "Democracy stands. America — and the world — stands with Ukraine."
On Thursday, the United Nations voted overwhelmingly to demand Russia "immediately" and "unconditionally" withdraw its troops from Ukraine.
'Direct dialogue' call
In Paris, the Eiffel Tower was illuminated in the yellow and blue colors of the Ukrainian flag, while in London, MPs and diplomats will pray at a Ukrainian Catholic cathedral.
"People of Ukraine, France stands by your side. To solidarity. To victory. To peace," French President Emmanuel Macron tweeted.
In Germany, Chancellor Olaf Scholz said Putin "will not reach his imperialistic goals," while activists plan to put a Russian tank in front of Moscow's Embassy in Berlin.
Beijing, which has sought to position itself as a neutral party while maintaining close ties with Russia, called on both countries to hold peace talks as soon as possible in a 12-point paper published Friday.
"All parties should support Russia and Ukraine in working in the same direction and resuming direct dialogue as quickly as possible," said the paper released on the foreign ministry's website.
'The most difficult year'
According to a recent Ukrainian poll, 17% of respondents said they had lost a loved one in the war.
Around 95% of Ukrainians say they are confident of Kyiv's victory.
"This has been the most difficult year of my life and that of all Ukrainians," Diana Shestakova, 23, said in Kyiv.
"I am sure that we will be victorious, but we don't know how long we will have to wait."
On the frontline in eastern Ukraine, Kyiv's troops pledged to drive out Moscow's forces.
"God is helping us. Nobody thought that Ukraine would hold," said a soldier who goes by the call sign "Cook."
"I know that miracles happen," said the soldier from the 95th Separate Air Assault Brigade in the eastern region of Donetsk.
The Russian assault was launched with the goal of a rapid conquest leading to capitulation and the installation of a pro-Moscow regime.
But Russian forces failed to conquer Kyiv and have since suffered defeats in northeastern and southern Ukraine.
Since October, Russia has pummelled Ukraine's energy infrastructure, leading to power shortages that have left millions in the cold and dark.
'Don't see any future'
Despite military setbacks and sanctions, Putin, 70, has refused to back down, accusing the West of supporting neo-Nazi forces and claiming Russia's survival was at stake.
In his state of the nation address Tuesday, Putin vowed Moscow would keep fighting in Ukraine and suspended its participation in the last remaining arms control treaty between Russia and the United States.
"We are protecting people's lives, our native home," Putin said. "And the goal of the West is endless power."
The Kremlin has been putting society on a war footing, with independent media banned and prominent critics jailed or pushed out of the country.
Putin's assault on Ukraine and mobilization of reservists have sparked what might be Russia's largest mass exodus since the Bolshevik Revolution in 1917.
But with television propaganda in overdrive and dissenting voices stifled, many Russians have rallied behind Putin despite economic trouble and multiplying casualties.
"The country is really changing for the better," said Lyubov Yudina, a 48-year-old security guard.
Others are dejected.
"I don't see any future now," said Ruslan Melnikov, a 28-year-old teacher.