Petersburg. View of St. Isaac's Cathedral and Senate Square. Lithograph. A. Duran. 1845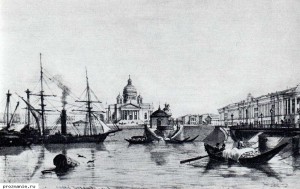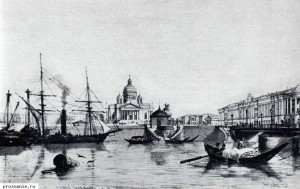 The cathedral is an outstanding monument of the architecture of the first half of the 19th century. 440,000 builders worked on it over a period of forty years, from 1818 to 1858. The author of the original design was A. Montferrand; the architects V. P. Stasov, A. A. Mikhailov and others, the sculptors P. K. Klodt, I. P. Vitali and the artists K. P. Bryullov and F. A. Bruni participated in building and decorating the cathedral. It is the third among the highest domed structures of the world, its height being 101,88 metres. The building weighs over 300,000 tons. The cathedral can hold 13.000 people.
The cathedral is a geological museum of a kind, as forty-three different minerals were used in its construction and decoration.