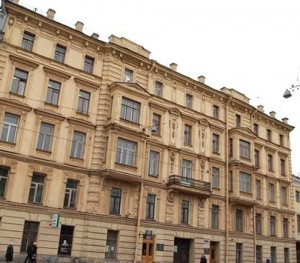 The State Public Library named after M. E. Saltykoy-Shchedrin is one of the largest book repositories and a world-known bibliography-research centre. It contains over 13,000,000 catalogued items, three times more than in pre-revolutionary years. Nearly 4,000 people come to the library every day in order to draw out more than 12,000 books, magazines, newspapers and other periodicals.
The library was opened in 1814 and since then has been visited by a number of men prominent in public, cultural and scientific life; V. I. Lenin studied regularly at the library in 1893—1895; G. V. Plekhanov, N. G. Chernyshevsky, V. G. Belinsky, L. N. Tolstoi and A. M. Gorky also made use of its fine collections.
The State Public Library named after M. E. Saltykdv-Shchedrin possesses the most complete collection of Russian publications, an invaluable collection of The Free Russian Press, which includes sets of Lenin's Iskra, Herzen's Kolokol and other first editions. Several hundred thousand manuscripts and book illustrations are available in the Manuscript Department and the Department of Prints established by the outstanding art critic V. V. Stasov.
The Public Library exchanges books with more than 150 foreign scientific-research institutions and libraries; it receives books, newspapers and magazines in 60 foreign languages from 80 countries.
The building of the Public Library is part of the beautiful architectural ensemble of Ostrovsky Square. It was built by various architects and at different periods: in 1796—1801 the architect E. T. Sokolov designed the building at the corner of the Nevsky Prospect and. Sadovaya Street; in 1828—1832 the architect C. I. Rossi erected the central building in Ostrovsky Square; the loggias between its columns are adorned with statues of outstanding thinkers of antiquity — the creation of the sculptors S. S. Pimenov and V. I. Demut Malinovsky; in 1896—1901 the architect E. S. Vorotilov designed the third building near Krylov Lane.