The University Botanical Gardens
are on the left-hand side next to the grounds of the Dzerzhinsky sanatorium. The Gardens were founded in 1867, originally on the grounds of the University at No. 2 Ulitsa Petra Velikogo (2 Peter the Great St.), but were transferred to the present site in 1880. During the years of the nazi occupation of Odessa (1941-1944) immense damage was done to the Gardens. Their restoration began after the war. At present they serve as the University's experimental base for acclimatising plants and planting greenery in the Black Sea steppes, as well as protecting rare and disappearing plant species. 800species and varieties of trees and plants from different climatic zones of the Soviet Union and other countries grow in the Botanical Gardens, as well as 1,486 species of grass-like plants, 359 varieties of roses, 103 varieties of peaches, etc. With the sea as a background, the beauty of the gardens is greatly enhanced. The stuff maintain ties with Soviet and foreign botanical gardens and scientific institutions. To the right, one can glimpse through the trees of an old park the Chkalov sanatorium, and further on the fourteen-storey building of the preventive-treatment sanatorium belonging to the "Stroygidravlika" factory (No. 63). This is where the factory workers can take a rest and receive treatment, not only during their holidays, but at any time of the year while they are still working.  Next to the main building, there is a two-storey clinic with hydropathic, physiotherapy, exercise therapy and massage facilities. There is also a swimming pool filled with mineral water, a cinema, club and library and for families there are cottages in the grounds. The place caters for four hundred people at a time.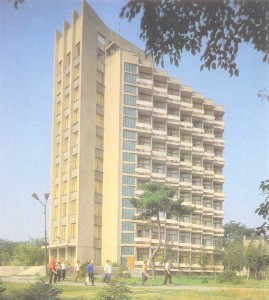 Next door (No. 59) a similar establishment was built in 1980, but this time for the Odessa railway workers.
Throughout this excursion we saw practically no industrial enterprises. They are sited in special zones, chiefly in the outskirts with only food factories and light industries, as a rule, being in the central districts. One of these is the Champagne Factory on the left-hand side of Proletarsky Bulvar (No. 36). It produces nine million bottles of sparkling wines annually and its quality is known world-wide and hardly requires additional praise.