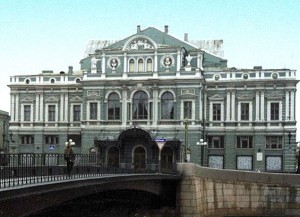 Constructed in 1879 by the architect L. Fontana, the building of the theatre was the home of the pre-revolutionary Maly Suvorin Theatre.
The Bolshoi Drama Theatre was established on the initiative of A. M. Gorky supported by A. V. Lunacharsky, the poet A. A. Blok and the actors Y. M. Yiiryev, N. F. Monakhov and M. F. Andreyeva. On February 15, 1919, the curtain rose for the opening night, when F. I. Shiller's tragedy Don Karlos was performed.
The theatre has staged a number of remarkable works by Russiandramatists: B. A. Lavrenyov's The Breakup and K. A. Trenyov's Lyubov Yarovdya, N. F. Pogodin's The Man with the Gun and The Kremlin Tower-clock and many other plays. The theatre has also given striking interpretations of plays by Italian, French and other foreign dramatists.
In recent years the theatre has won the reputation of one of the best in Saint Petersburg; the presentations of The Idiot after F. Dostoyevsky's novel, Aesop by Q. Figeiredo, The Fourth by K. Simonov and The Ocean by A. Stein are well khown in other towns. V. Y. Sofronov, A. I. Larikov, V. P. Politseimako, E. M. Granovskaya, O. G. Kaziko, V. T. Kibardina, V. I. Strzhelchik, N. A. Olkhina are among the actors who have further enhanced the fame of the theatre. G. A. Tovstonogov, People's Artist of the Russia and Lenin Prize Winner, has been the art director of the theatre since 1956.