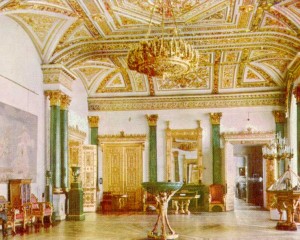 Treasure Chamber of Human Genius
Roaming around Saint Petersburg in winter, you are sure to find places where winter offers you something that is all of its own. The frozen channels, frost-covered bridges, and numerous snow-capped monuments and statues are full of especial charm. A walk in Saint Petersburg in winter will show you the city in all its graceful captivating poetic beauty.
Anyone coming to Saint Petersburg believes himself in duty bound to visit the Hermitage, one of the world's largest museums, whose three million odd sculptures, paintings and masterpiece of decorative and applied art are displayed in four main buildings as well as the Winter Palace.
The exhibits are indeed unique. You cannot but feel thrilled as you peer at a genuine Raphael, Titian or Michelangelo. The two da Vinci paintings are certainly much when one realises that only 14 are left throughout the world. There are also 25 Rembrandts, as well as masterpieces by Rubens, Velasquez and Van Dyke.
The Hermitage has an interesting history. It owes its origin to Catherine II, who started it as a private collection in 1764. She purchased large collections of paintings, with the result that by the close of the 18th century, the Hermitage was one of the best galleries in Europe. One also finds here collections of engravings, drawings, antique marbles, gems, coins, and medals as well as a mineralogical collection and library and the world's sole collection of Scythian tribal objects. By the mid 19th century the Hermitage had become one of the world's richest museums, with more and more relics of ancient Egypt, Central Asia, Iran, China and India being added, At the turn of this century, it acquired the world's biggest collection of French impressionists.
European art scholars come specially to Saint Petersburg to see the Hermitage´s treasures.