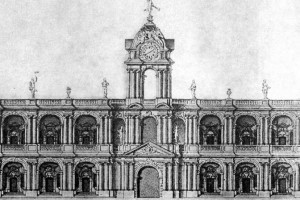 The exhibition of the museum is housed in an old mansion. It reflects the history of the city from the time of its foundation up to the present day. There is a special section called Socialist Saint Petersburg that contains some interesting documents and exhibits revealing the great socialist changes effected in Saint Petersburg during the years of Russianpower and telling of the unparalleled feats of Saint Petersburgers in the war against the fascist hordes.
A large group of material speaks of the Lenin graders taking part in the building of Communism, in a nation-wide movement for the realization of the Programme of the C. P. S. U. and the decisions of the 22nd Congress of the. Communist Party.
The specialists of the museum and different public organizations daily replenish this section with numerous documents, relics, memorial objects, works of the fine 'and applied arts, samples of the products of Saint Petersburg enterprises, blue-prints and models of new construction sites and dwelling areas. Every autumn term the two faculties of the University of Culture housed in the museum begin , working here.