Russian Food – continuation
Russian recipe of Svekolnik
All right, we all know by now about Russian recipe of Okroshka. This is a svekolnik time now!
The word
Svekolnik
came from word svekla, which is beetroot. As the name implies, the recipe must include beetroot. Delicious soup is obtained with young petty beets, but last year's beetroots will not spoil Svekolnik.
Svekolnik can be prepared on a beet broth with the addition of kvas or cucumber and cabbage marinade, yogurt, kefir, or sour milk, and even mineral water. In the old Russian recipes in svekolnik recommended to add a little wine. Svekolnik, or as it is sometimes called holodnik – an alternative to cold borscht. Often, svekolnik prepared with crawfish or boiled meat. But today we are going to stick with my family recipe. It is probably not a perfect one, but oh well…
You will need: 3-4 beetroots, 6 boiled eggs, 6-7 cucumbers, and a big bunch of chives. You can add a bunch of dill, if you like it, I don't add it. Couple boiled eggs and sour cream for garnish.
First of lets cook a broth for our Svekolnik. Take a 4 liters pot (1.06 gallons), peel beetroots and shred them, like on the picture.
Add water and boil shredded beetroots in water about 10-15 min. Also, before boiling, add salt and couple table spoons of vinegar (you can also use lemon juice or lemon acid). That would be a beetroot's broth for our svekolnik and it needs to be a quite sour. Plus vinegar will bring beet's wonderful red color for the broth. That's why you need to add vinegar. As soon as broth cools down, put it in to a fridge.

Take pealed boiled eggs, cucumbers and chives.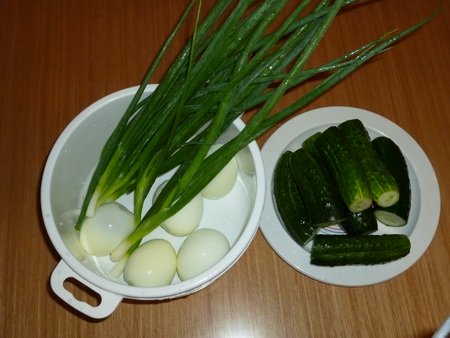 Chop all ingredients for fine pieces. It has to look like a salad – see my picture.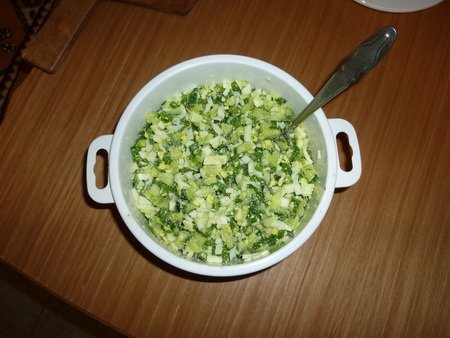 Now… Very important moment is how to serve. Svekolnik broth and veggies-eggs mixture DO NOT MIX until serving time. After all parts of Svekolnik were cool down in fridge, take a plate, put 2-3 table spoons (or more, it's up to you) of veggies-eggs mixture, add beets broth (about 3 soup ladles). Garnish with half of boiled egg and sour cream. Enjoy!!!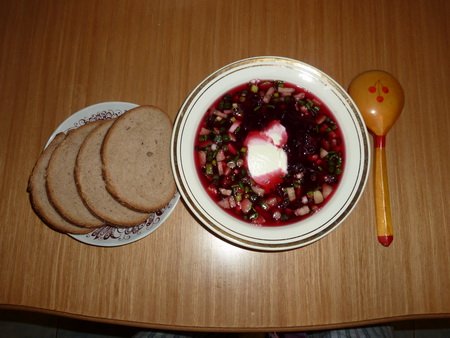 Before you go, my Reader, I want to share one little secret. This is the best remedy if you have hangover. Checked numerous of times – it works!
Your Moscow Russia Travel Guide.
Related Posts
---

Home Page | About Me | Moscow Blog | Russian Visas | Travel Tips | Getting to Moscow | Getting Around Moscow | Hotels Guide | Luxury Hotels | Airport Hotels | Cheap Hotels | Hostels | Moscow Housing | Moscow Facts | Tourist Attractions | Moscow Skyscrapers | Entertainment | Shopping | Russia Facts | Government | Flag of Russia | Places to Visit | Russian Food | Culture of Russia | Russian Movies | Russia Wildlife | Russia Pictures | Russia Sports | Sochi Olympics