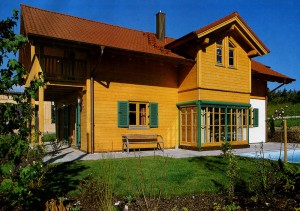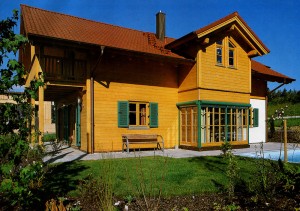 Design and construction: Sonnletner
The desire to create an individual look of wooden houses has led architects to search for the original plastic expression.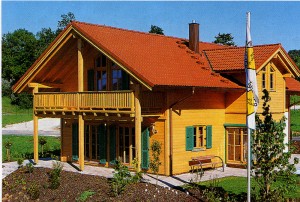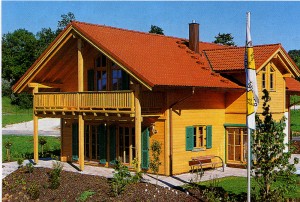 Village character, common to almost all wooden buildings of rural type, in this case emphasize the combination of different methods of construction and the combination of finishing materials. The entire second floor, as well as elongated side gable with a bay window facing the garden – made from a solid bar of solid wood. The left side of the first floor and interior partitions represent a frame structure based on wooden frames.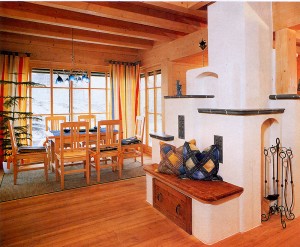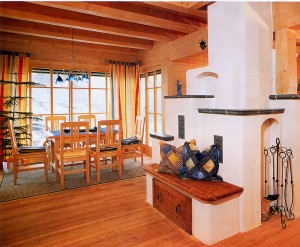 The project clearly demonstrates the tendency of modern development of the "new wooden architecture": high attic floor, sloping roof with wide overhangs, windows with shutters, large areas of glazing (gable, terraces).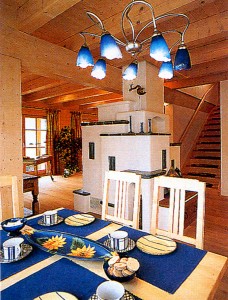 The house is designed for a family of four.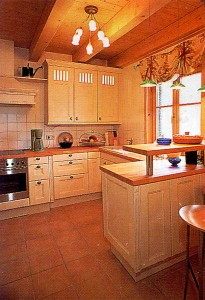 For interior decoration is characterized by a combination of all design elements to their purpose. Visible beams, wooden furniture, doors and stairs retain the atmosphere of a simple peasant house. Due to the natural color of natural wood ceiling room seem cozier.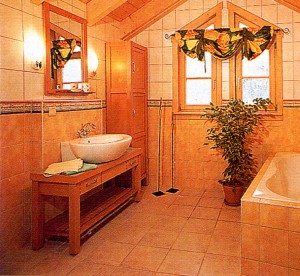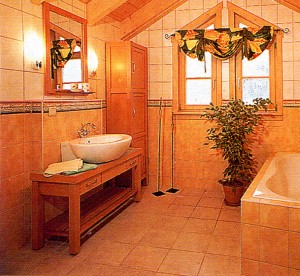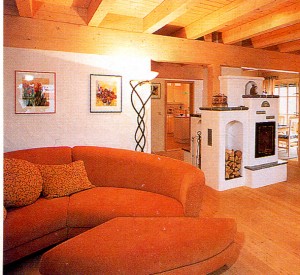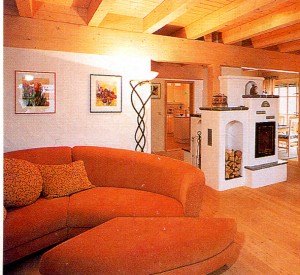 Kitchen, utility room and freezer to form a single unit. In the center of the living room-dining room with original compositions for stove with a traditional stove bench. The attic floor is compact enough and functional. Children's bedrooms have good proportions, allowing except berth arrange a place for training. Special comfort for children creates a spacious balcony, weatherproof wide eaves. The master bedroom is equipped with wardrobe niche.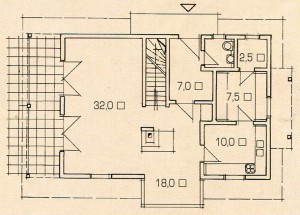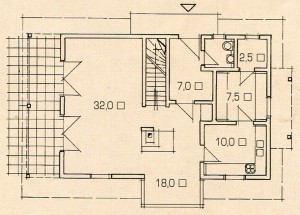 1 floor plan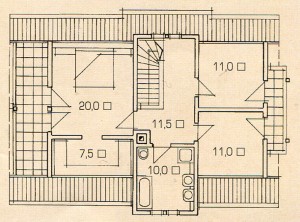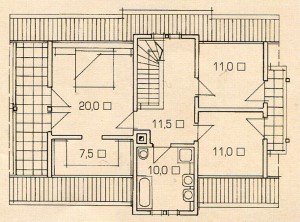 Plan 2 floors
Total area – 150.0 m² 1st floor – 79.0 sqm Hall – 7.0 m² Kitchen – 10.0 m² Robes – 7.5 m² refrigerating chamber – 2.5 m² Living room – Dining room 32.0 m² – 18 0 m²
Bathroom – 2,0 m² 2 floors – 71.0 m² Gallery – 11.5 m² Children – 11.0 m²; 11.0 m² Bedroom – Dressing 20.0 m² – 7.5 m² Bathroom – 10.0 m²