The country house has really become a favorite place of residence of their owners, in which they spend much more time than in their city apartment.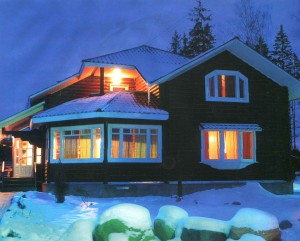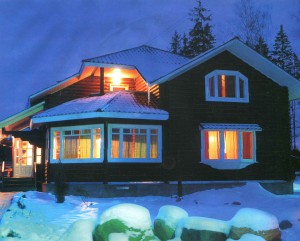 The original situation was as follows. Customers are energetic, modern people, one day realized that they just need a holiday home for the soul", that is designed exclusively for meeting with friends from the noisy feasts to quiet evenings by candlelight.
And to any front living rooms, strong rooms or elegant boudoir. No, everything in this house was supposed to gladden the eyes of its rough-and-authenticity, isolation from business life, from boring unnecessary benefits of urban civilization.
On the ground floor there is a large and bright living room with fireplace, kitchen-dining room with a tiled stove, a spacious entrance hall, lounge and bathroom. The open staircase in the hallway, we get to the second floor. There are two bedrooms and a spacious common room-lobby space which in the future can be split into 2-3 separate room. Characteristically, the house turned out to be both spacious and compact, with a clearly defined center living room.
Interesting and external appearance of the building. A significant rise of the roof, protruding crowns of logs, complex roof, a simple form of Windows; all of this together creates the impression of tradition, simplicity, romance and at the same time emphasizes functionality in its modern sense.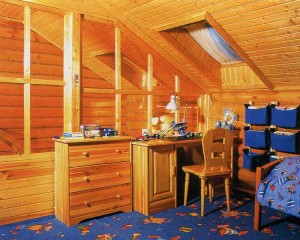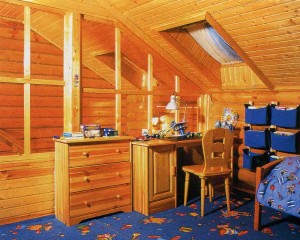 Wooden Cabinet under the pitched roof.
Excluding items of interior decoration, which appeared somewhat later, the house was built fairly quickly, in just three months. The style of the interior has been thoroughly and slowly.
Before the end of the main building was built a free-standing bath. At the site grow trees and ornamental, and fruit. In General, where there is a good time: or to relax, or to sit quietly and slowly to think about something.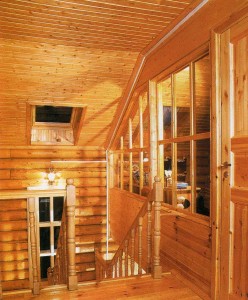 All made from the same wood species.
E. Ustinova, photo A. Shevchenko
Plan 1 floor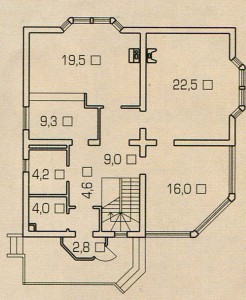 Total area – 195,2 m2 1st floor – 111,6 m2 Living room – 25,5 m2 Dining room – 19.5 m2 Kitchen – 9.3 m2 Hall – 9,0 m2 Corridor – 4,6 mg Bathroom – 4,2 m2 Boiler room – 4.0 m2 Vestibule – 2,8 m2 terrace – 16,0 m2
The plan of the 2nd floor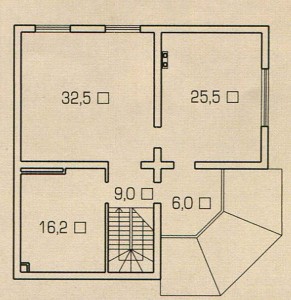 Square 2 floor of 83.6 m2 Common room – 32,5 m2 Bedroom-25,5; 16,2 m2 Hall – 9,0 m2 Balcony – 6.0 m2