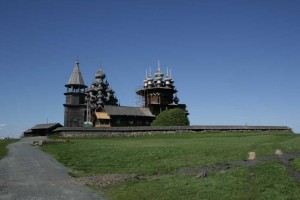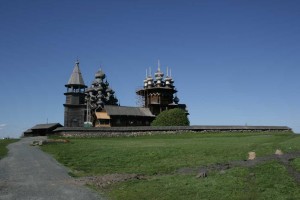 The lake Ladoga. is for the first time mentioned in the chronicles of the 9th century. In those days had a Karellian name "sevo", which means "an open swamp". Actually, it would be more exact if this lake, which is the biggest in Europe fresh water reservoir, would be called the Ladoga Sea.
We are approaching Valaam. From times immemorial people called this place "a wonder island". Indeed, there hardly is a place of the kind somewhere. Here, on the stones, people have erected temples, small secluded monasteries, they've built the dambs, weirs, roads, laid the gardens in which they've started to grow melons, pumpkins, water-melons. The beautiful nature of the island inspired Russian painters Ivan Shishkin, Fyodor Vasillev, Arkhip Kuindzhi and Nickolai Repin; writers Nickolai Leskov, Aleksei Apukhtin, Marietta Shagiman, Peter Tchaikovski dedicated  part of his symphony to this island.
Now to the request of Russian Orthodox Church, part of the Valaam archipelago and its monuments are passed over to the church for the revival of the monastery here.
The river Svir (220 kilometers) will lead us into the Onega lake. It's part of the Volga-Baltic sea route – the blue road, which is about 700 kilometers long. Nearly 20 million tons of freight are carried by its waters.
The ship approahes a little island in Onega skerries. It's a protected island Kizhi – a museum of building culture of the 17th – 19th centuries. Immediately after having descended the ship's ladder, you notice the Transfiguration church and your eyes get fixed on its 22 cupolas. This church is built without a single nail. Kizhi ranks among Rome, Samarkand, Paris, Acropolis and other masterpieces, which have glorified human civilization.