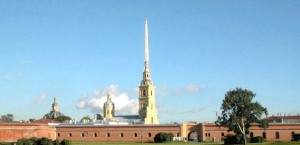 A fortress, a gaol and a museum — these three words comprise the history of one of the most remarkable memorials of the struggle which the Russian people waged to regain their ancient lands along the Neva River. It is also a monument to the heroic life and struggle of several generations of Russian revolutionaries. May 16, 1703 — the day when the foundation-stone of the fortress was laid — is regarded as the day of the foundation of Saint Petersburg. The fortress was erected to protect the city on the Neva from the Swedish feudal lords. But as early as the middle of the 18th century it became the most terrible political prison in Russia. A. N. Radishchev was imprisoned here; P. I. Pestel, K. F. Ryleyev, P. G. Kakhov-sky, S. I. Muravyov-Apostol and M. P. Bestuzhev-Ryumin — leaders of the December uprising — languished in the prison and were later executed in the fortress. In 1862—1864'N. G. Chernyshevsky was confined here.
Later on the tsarist government incarcerated in the fortress the Narodniks (Populists), proletarian revolutionaries and the most progressive men in Russia, with A. I. Ulyanov (Lenin's brother), the poet M. I. Mikhailov, the revolutionary N. E. Bau-man and the writer A. M. Gorky among them.
The Peter and Paul Fortress, converted into a museum after the Revolution, has become a historical and architectural monument. Among its places of interest are: (a) the Peter and Paul Cathedral (the highest edifice in the city, its spire reaching the height of 121,8 metres, built in 1712— 1733 under the supervision of D. Trezzini; (b) the former repository of the Grandfather of the Russian Navy, Peter I's jolly boat (now it stands in the Central Naval Museum); (c) the Petrovsky Gate (1718; architect D. Trezzini); (d) the Neva Gate of the fortress designed in 1787 by the architect N. A. Lvov, etc.