The project is a country house on Rublevsky highway was created for business and purposeful man, leading an active lifestyle. This is a small wooden house to chat with friends and business negotiations in an informal atmosphere. The builders and architects had to do from a bar is not the house, and a modern stylish accommodation. In the context of the natural countryside environment was necessary to build an island city ideas of comfort.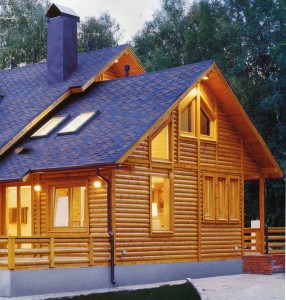 For the project to use domestic raw materials produced in St. Petersburg – the array timber pine. It is known that the wooden house – a warm house. Thanks to an excellent building material characteristics, as well as through the use of insulation and energy saving technologies achieves efficient insulation and wind protection at home. The use of timber-framed system and support-square log construction with load-bearing frame allowed for hidden utilities and varied types of interior design. Such a device does not allow the walls to traditional lumber shrinkage for a long time, so the design is perfectly compatible with the facing materials such as drywall, Block Houses, ceramic tile.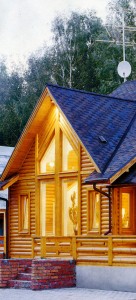 Light facade of a wooden house.
This project uses only natural materials, textures and colors. This was decisive for the architectural style of the wooden house of the XXI century, connecting the warmth of wood and tech comfort, eco-friendliness and versatility.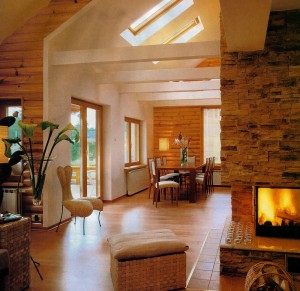 Natural wood is not only environmentally friendly, it makes the house a cozy feeling of warmth and radiant joy. Facade animates pine amber as textured interior finishes used Block Houses (walls), flooring (floor) and decorative wood paneling (walls of the attic). Consistent with environmentally friendly even cactus painted straw, not to mention the mantel natural wild stone. Fireplace, which is the center, the core of the space of the first floor, one-piece resembles a massive piece of rock. This kind of domesticated version of a rustic oven, which in ancient times, fed, heated and brings people together. Fireplace impressive, credible, he as the axis of the world, which takes place around the theatrical action – friendly parties, quiet family evenings, New Year and communication with business partners.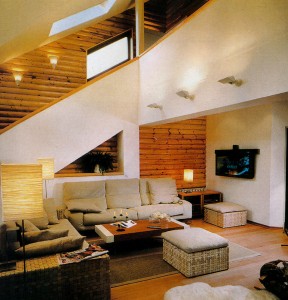 This space can be easily transformed to arrange a dinner party, a fun party or sit quietly with his family near the fireplace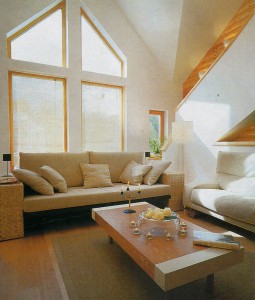 A sense of purity and transparency is achieved spatial resolutions: designed two-storey large living-dining room; combined into a single zone living room, dining room and kitchen. Freedom of flowing space, the interaction of horizontal and vertical lines give rise to an impression of volume, airiness. Large glazed surfaces will provide sunlight, sun terrace interacts harmoniously with nature. The interior is no extra draperies. Certain parts of the structure are left in the open space of the dining room, they finished with plasterboard. Window curtains are not burdened and curtains.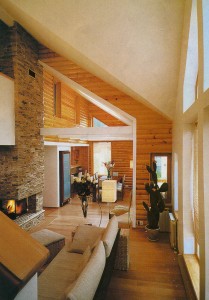 Stylish and elegant space of the first level and adjusts the attic a little funny decision bathroom – "checkered"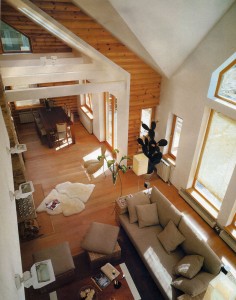 The house has a lot of white surfaces – is plastered walls, finished with drywall construction, painted on the attic floor ramps, covered with boards. White symbolizes purity. He is the backdrop for the interior parts, emphasizes textural rhythms and colors in the game space. The color scheme of the objective world in harmony with the environmentally friendly style – a natural shades of wood, natural colors (sand, beige, green).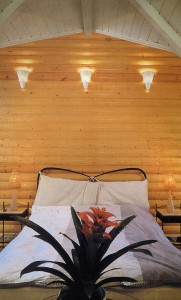 The furniture was chosen in terms of harmony and measure. Exquisite classic Italian furniture so it is appropriate in this modern and elegant interior, as well as simple, concise products company IKEA. Little fights with a purity of style extravagant bathroom, but its black and white "checkerboard" element (finish – ceramic tile) and lax configuration is not contrary to the common artistic image.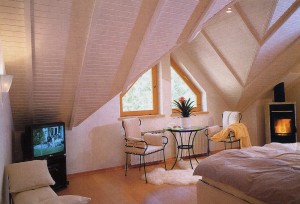 In computer graphics, There is the concept of "pure design". Elegance of design lines, jewelry decorative work, artistic integrity of the project allows to speak about pure style. Image of a modern country cottage of timber – a harmonious, tech, live and contemporary architecture.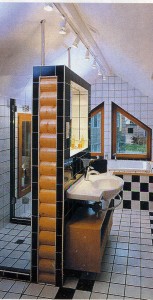 A.Ilicheva, photo V. Nekrasov
1 floor plan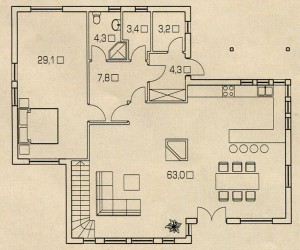 Plan 2 floors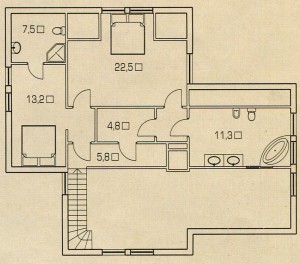 Total area – 180.2 m² 1st floor – 11 m² 5.1 United Space – 63.0 m² Guest bedroom – 29.1 m² Hall – 7.8 m² Tambour – 4.3 square meters bathroom – 4,3 m² Boiler – 3.2 m² Storage – 3.4 m²
Area 2 floors – 65.1 m² Bedroom-22.5; 13.2 m² bathroom – 11.3; Hall 7.5 m² – 4.8 m² Balcony – 5.8 m²