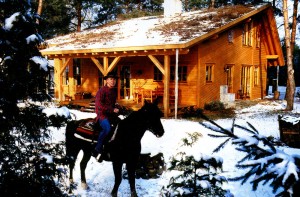 Design and construction: Skandima
Built on an individual project, this wooden house meets all the requirements of ecological construction. Lumber walls perfectly regulate humidity in the room. This creates prerequisites for the formation of a healthy microclimate in the house, which is especially important for people suffering from allergies and respiratory diseases. All wooden house construction made of well dried and specially treated material. From the outside wood impregnated compositions for many years allows to keep its structure and protect it from exposure to ultraviolet radiation, humidity and wind.
Create a favorable climate also contributes to solid green roofs. Green roof prevents overheating of rooms in the house in summer and winter is an additional thermal insulator. Porous substrate, which is a kind of soil, capable of storing rain water, so this "lawn" does not need watering.
Total area – 203.0 m²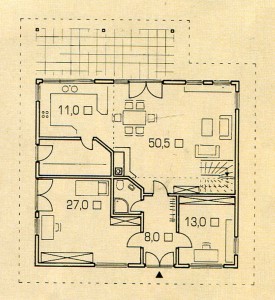 Area 1 floor of a house in the woods
1 floor area – 123.0 m² Hall – 8.0 m² living / dining area – 50.5 m² Kitchen – 11.0 m² Storage – 8.0 m² Office – 13.5 mg Children – 27.0 square meters bathroom – 3 0 m²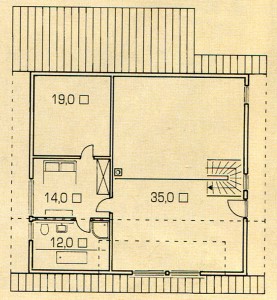 Area 2 floors of a house in the woods
Area 2 floor – 80.0 sqm Studio – 35.0 m² Bedroom – Wardrobe 14.0 m² – 19.0 m² Bathroom – 12.0 m²