Recipe from time immemorial.
The house, built entirely of wood, as in fact it has been for centuries, and today attracts attention, despite the abundance of technical capacity and a wide range of modern construction technology, and looks very attractive.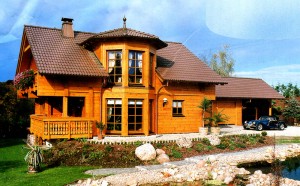 Design and construction: Fullwood
Presented project «Saaletraum» firm Fullwood (Germany), made of durable glued beam thickness of 20 cm. The natural building material dominates here, not only in appearance: the whole interior is also made of wood. (The project basically involves any other options for interior.) The house was built in the framework of self-construction firms from produced her toolkit.
The project «Saaletraum» has a relatively small area. First floor slightly increased due to the uninhabited, utility room and garage. This made it possible to equip near the entrance to a spacious hall (15.0 m2) located next to the bathroom for guests. The remainder of the first floor is occupied by a large living room – dining room and adjoining kitchen. From the living room opens onto a covered terrace with carved railings.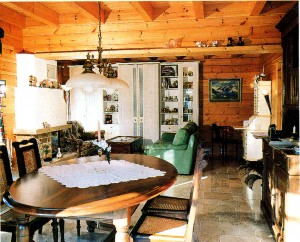 Great clear coat wooden wall background for any furniture-from the simplest to the exquisitely stylish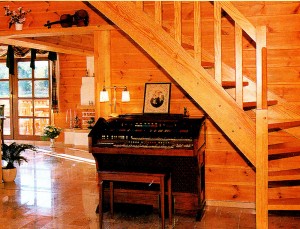 Open gallery in the attic emphasizes the feeling of spaciousness entrance area. There's also a bedroom area of 18.0 m² with a separate dressing room (10.0 m²) and a guest room. Both of these rooms have access to a wide loggia. Plenty of space in the attic reserved for the bathroom, sauna and shower. Here is a very nice sitting area in this cozy house. The project with a total area of about 140.0 square meters in total provides complete comfort for a family of three. Economic dependance quite roomy, and it avoids the basement.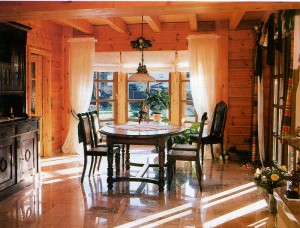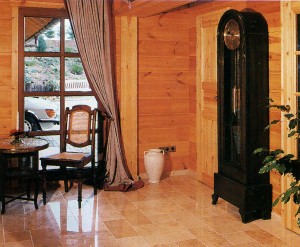 1 floor plan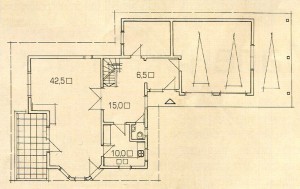 Plan 2 floors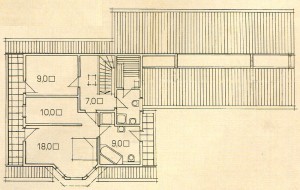 Total area – 137.0 m²: Area 1 floor – 75.0 m²: Entrance hall – 6.5 m²: Hall – 15.0 m²: Living-dining room – 42.5 m ²: Kitchen – 10.0 m² :: Bathroom – 1.0 m²: Area 2 floors – 62.0 m²: Bedroom – Wardrobe 18.0 m² – 10.0 m² Guest Room – 9.0 m²: Gallery – 7.0 square meters bathroom – 9.0 m²: shower – 5.0 m² Sauna – 4.0 m²