Attractive project based on an old design, demonstrates how modern can look classic framing.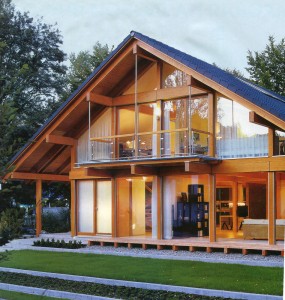 Design and construction: Platx Haus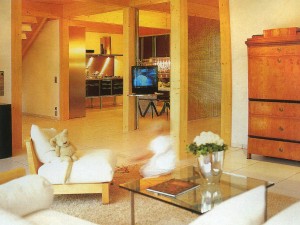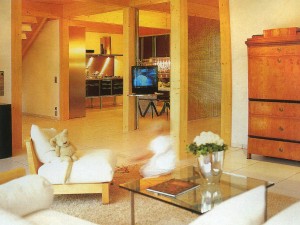 Interier homes are filled with ease.
The South facade of the house is almost completely glazed. In combination with large glass surfaces bearing wooden structures look quite gracefully
Wide roof overhangs protect the house and a cozy terrace from rain and bright sun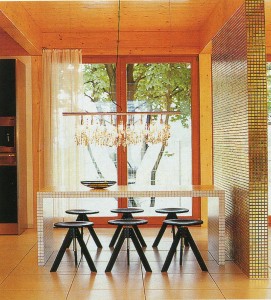 Elegant furniture in high-tech style.
The combination of glass and beams made of laminated timber generates light, even graceful look of the house. This also applies to exterior and interior. The spacious, light-flooded rooms have exposed wooden ceiling construction and vertical supports are not "crush" and at the same time allow you to visually identify various functional areas.
The first floor of the house – a single living space, separated by a small partition. For example, between the kitchen and dining room septum only conditionally defines boundaries, and the right and left of it the passage is open. The house, designed for a large family like the layout of the premises for joint activities is justified.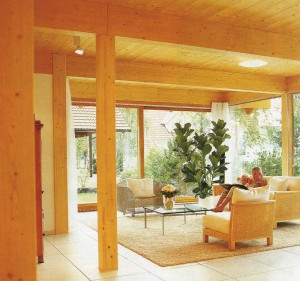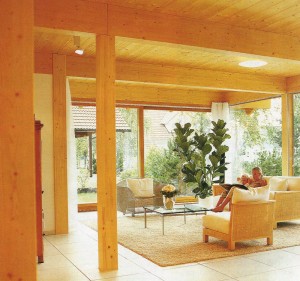 Large glass panels.
Also not clearly allocated and living room from which you can get in the dining room and into the kitchen, and adjoining the house open terrace under a wide canopy. Compact stairwell little stands for the boundary of the facade, giving the impression that the first floor is very spacious.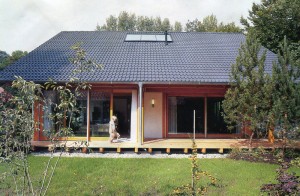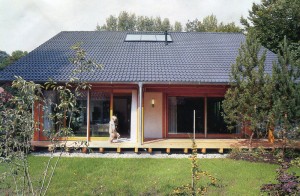 General view of the framing.
On the second floor there is a bedroom with dressing room, two children and a large family bathroom, which, through the bulkhead and double kit plumbing allows you to avoid the rush in the morning peak hours.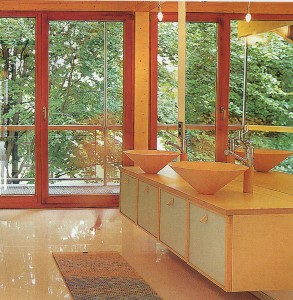 Large glass Windows make the room bright.
Using as building materials, wood and glass, the architect not only sought to produce a specific visual effect, but also pursued a practical purpose. The special properties of glass, providing a low heat, allow to achieve high energy efficiency, reduce heating costs.
Plan 1 floor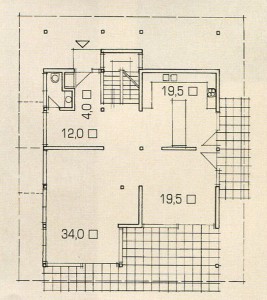 The plan of the 2nd floor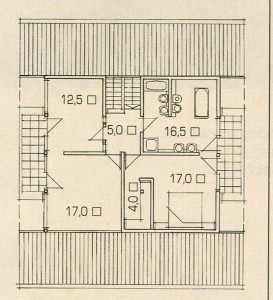 Total area – 176,0 m2land 1 floor – 98,0 m2 Hallway 12,0; 4,0 m2 Living room – 34,0 mshilava – 19,5 19,5 m2 Kitchen m2land 2 floors – 78,0 mjoll – 5,0 mcpalin – 17,0 margarona – 4,0 detska 17,0; 12,5 manna – 16.5 m2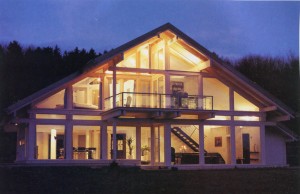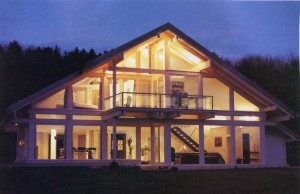 Fachwerk night.