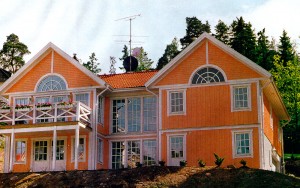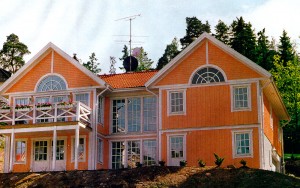 Design: Nurmi
Very unusual project «Ekhamar». First of all, he refutes the notion that the shield house should be simple and rough. Glazed gable, exquisite colors and different shapes of windows give the project like a small castle.
The house is situated on a hillside, and this allowed efficient use of its ground floor. Here are the master bedroom, one of the children's rooms (second child – on the top floor) and a seating lounge, is a favorite place in the house where the whole family on a daily basis. Actually lounge located on the floor above; huge windows make it a fairly large area still oolee room light and airy.
Making your daily path, the sun illuminates the whole house: from the balcony adjacent to the living room to the terrace where there is access from the kitchen. Good thermal insulation of external walls of the house provides low energy consumption.
1 floor plan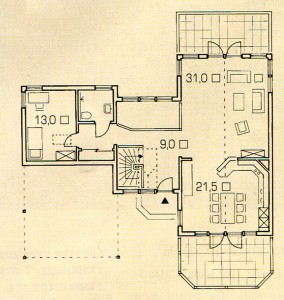 Plan 2 floors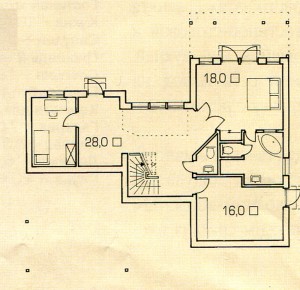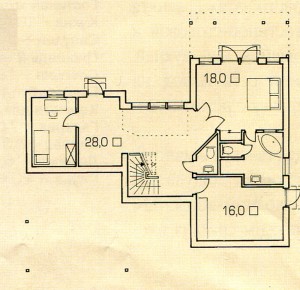 Total area – 180.0 m² 1st floor – 97.0 sqm Hallway – 14.5 m² Dining Hall – 28.0 m² Bedroom – 18.0 m² Robes – 16.0 m² Children – 9.5 m² Bathroom – 8 0 m² bathroom – 3.0 m² 2nd floor – 83.0 sqm Hall – 9.0 m² Living room – 31.0 m2 Kitchen-21.5 m² Children – 13.0 m² WC-shower – 4.0 m² Pantry – 4.5 m²