Considerable elevation on the site, intended for building a house, at first grieved his future owners, but the architects have dispelled their concerns; having vast experience in the design, they knew themselves, and managed to convince customers that these professionals are quite capable disadvantages to draw in dignity.
In the end, thanks to the creative approach of the authors, their full understanding with the customers, there appeared an unusual wooden house, and it came out really modern, emphasizing their individuality. The concept of project – asymmetry, but not chaotic: the location and shape of each part is strictly due to the function and aesthetics.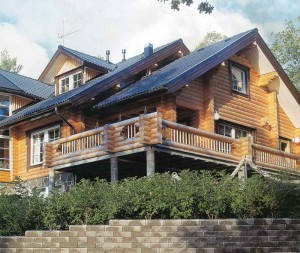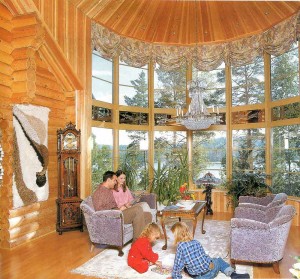 Inside the house on the slope.
With two facades, Bay Windows are arranged in the form of polariton, and with third – balcony-gallery slim support columns.
The Bay Windows are placed living room, spacious match throughout the house. In addition, a single residential space on the ground floor are the kitchen and dining areas and more isolated – two bedrooms. Another bedroom is located on the second floor there is a spacious hall that serves as a great place to relax.
The elevation is only promoted as competently carried out the organization of the internal space of the house, and a good landscape design around it: in visual range of the manor harmoniously blended retaining wall of stone, the upper ledges which was decorated with ornamental plants, elegant lamps and cable fence.
Общая площадь — 344,0 м² Площадь 1 этажа — 259,0 м² Холл — 15,8 м² Кухня — 13,6 м² Столовая — 28,6 м² Гостиная — 32,8; 26,7 м² Санузел — 2,0 м² Спальни — 18,8; 10,9 м² Ванная — 5,1 мг Сауна — 4,0 м² Раздевалка — 3,0 м² Прачечная — 7,7 м² Кладовая — 1,8 м² Террасы — 6,2; 45,0; 37,0 м² Площадь 2 этажа — 85,0 м² Холл-61,0 м² Спальня —22,0 м² Санузел — 2,0 м²