Wooden house most people associate with the holidays, creates a feeling of relaxation and romance. However, some still tend to believe that in such houses, it is difficult to create comfort, conforming to modern requirements. All this in the past: today, wood built a comfortable home, living in which you myself not to infringe.
>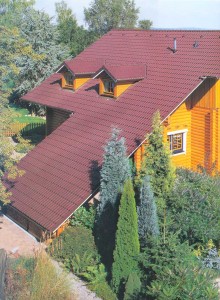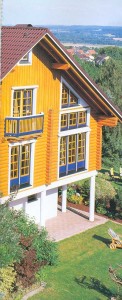 The facade of the wooden house.
This project may convince many skeptics: a wooden house from a massive round of logs does not feel bulky and impressive, despite the fact that the diameter and length of logs are quite large. Built on the outskirts of town, in a wooded area, where a lot of old trees, it has an individual look, combined with the surrounding landscape and meet the needs of its future owners. They desire the house has a traditional Finnish sauna with heater. Originally made the design of the ceiling in the form of a "starry sky" in the bathroom, and living room lighting. The bathroom has a whirlpool. In addition, the house is equipped with Central dust collector. As seen in the photo, modern furniture gets along well with massive log walls and white tile. This contrast is even enlivens the atmosphere.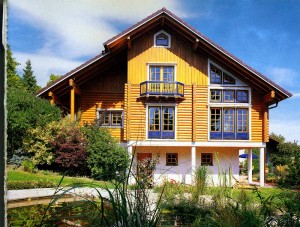 The facade of the wooden house.
The slope on which the house is built, gave the possibility to equip a fairly spacious room with a separate entrance in the basement.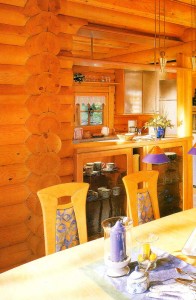 Light beam smotritjsa very effectively.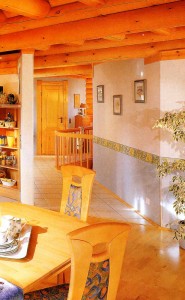 The combination of light sexual tiles, white plastered walls and beams.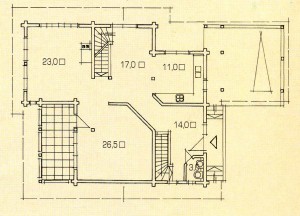 The plan of the 1st floor.
TOTAL AREA – M2 250,0
SQUARE TROT. FLOOR – 60,0 M2
The AREA of the 1ST FLOOR – 103,0 M2
HALLWAY – 14,0 M2
HALL 17,0 M2
LIVING – 26.5 M2
DINING room – 23,0 M2
KITCHEN – 11.0 M2
The AREA of the 2nd FLOOR – 87,0 M2
HALL-9,0 M2
BEDROOM – 1 5,0; 13,0; 13,0; 9,0 M2
EN – 12,0 M2